Verzeichnis und Bibliografie der Tanzfliegenverwandten Deutschlands (Diptera: Empidoidea: Atelestidae, Brachystomatidae, Dolichopodidae s. l., Empididae, Hybotidae, 'Iteaphila-Gruppe', Oreogetonidae) Studia Dipterologica Supplement 19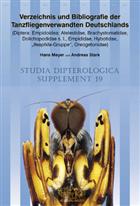 Description:
Text German. First comprehensive bibliography and checklist of all species of Empidoidea recorded in Germany.
Diese Publikation enthält erstmals eine umfassende Bibliographie sowie ein nach Bundesländern getrenntes Verzeichnis aller bisher in Deutschland nachgewiesenen Arten der Tanzfliegenverwandten (Empidoidea). Letzteres basiert auf einer umfangreichen Literaturauswertung und Dokumentation der Empidoidea-Fauna Europas für den Zeitraum von 1830 bis 2013 sowie eine Sichtung unveröffentlichter Sammlungs- und Museumslisten in Deutschland. In der Bibliographie ermöglichen Länderkürzel, die den Publikationen nachgestellt sind, eine Zuordnung der Artnachweise zu den jeweiligen Bundesländern. Bis zum Redaktionsschluss (1. Juli 2013) lagen Nachweise von insgesamt 1.103 Arten der Empidoidea für die Fauna Deutschlands vor, die sich auf die Familien Atelestidae (3 Arten), Brachystomatidae (6), Dolichopodidae s. l. (424), Empididae (414), Hybotidae (250), "Iteaphila-Gruppe" (5) und Oreogetonidae (1) verteilen. Zwei Arten der Hybotidae können für Deutschland aufgrund der bisher vorliegenden Verbreitungsdaten mit Nachweisen ausschließlich in Sachsen-Anhalt, als mögliche Endemiten eingestuft werden: Tachydromia schnitteri Stark, 1996 und Lamachella germanica Chvála & Stark, 1997. Die Bibliographie enthält zusätzlich wichtige Bestimmungsschlüssel sowie aktuelle Revisionen und Artbeschreibungen seit 1951, die sich auf das in der "Fauna Europaea" definierte Gebiet Europas beziehen. Alle Arten in Literaturquellen, die Genital-Abbildungen der Männchen neu beschriebener bzw. Bereits bekannter Arten enthalten, werden dort namentlich aufgelistet. Die Bibliographie umfasst insgesamt 1.466 Zitate. Ein Anhang enthält weitere 46 Quellen, die nach dem 1. Juli 2013 zur Verfügung standen und deshalb im Verzeichnis und bei den statistischen Berechnungen nicht berücksichtigt wurden. Der Anhang umfasst den Zeitraum von Juli 2013 bis Februar 2015 und enthält Informationen zu 105 Arten der Empidoidea Europas bzw. Deutschlands. Europa: Neubeschreibungen von 26 Arten, Neunachweise für Europa (6) und neue Synonyme (5); Deutsche Bundesländer: Neunachweise (41) und zusätzliche historische Nachweise (27).
Other titles from the series : Studia Dipterologica - Supplement