Fauna Iberica 36: Annelida Polychaeta 3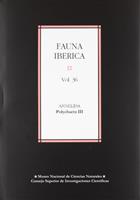 Series : Fauna Iberica
Volume: 36
Publisher : CSIC
Published In : Madrid
Illustrations : 163 figs
Description:
Text Spanish. Includes 102 species from ten families, five from the Aciculata (Lacydoniidae, Sphaerodoridae, Amphinomidae, Euphrosinidae), four in the Scolecida (Opheliidae Orbiniidae, Paraonidae, Cossuridae) and one belonging to the former Archiannelida group, currently the subject of a controversial systematic arrangement in the polychaetes (Nerillidae). Description of each species, with SEM photographs and information on biology, geographic distribution and taxonomy.Identification keys to all genera and species recorded from the Ibero-Balearic area.
Other titles from the series : Fauna Iberica
You may also like...