Leech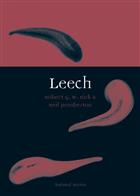 Description:
A friend and a fiend, the leech is one of nature's most tenacious yet mysterious animals. Armed with razor-sharp teeth and capable of drinking many times their own volume in blood, these formidable worms are an unlikely candidate to turn to as a cure for sickness. Yet that is the role leeches have played in both Western and Eastern medicine throughout history. Today they continue to be used in post-operative care, helping to heal the body after reconstructive surgery.
This book explores how these surprising animals have helped us to overcome illness, forecast the weather, and better understand how our brains and bodies work. However, for every leech that brings hope, there has been a sinister twin. From Bram Stoker's Dracula, through twentieth-century film, to twenty-first-century video games, leeches have come to represent the worst in human nature.
The authors reveal how these fascinating creatures have been one of humanity's most enduring and peculiar companions.
Other titles from the series : Animal Series
You may also like...