Treatise on Zoology. The Crustacea, Vol. 9 Part C: Eucarida: Euphausiacea, Amphionidacea and Decapoda (partim)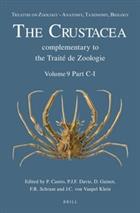 Publisher : Brill
Illustrations : text figs
Description:
This volume, 9C, in two parts, covers the Brachyura. With the publication of the ninth volume in the Treatise on Zoology: The Crustacea, we departed from the sequence one would normally expect. Some crustacean groups, mainly comprising the Decapoda, never had a French version produced.
Other titles from the series : Treatise on Zoology: Anatomy, Taxonomy, Biology
You may also like...